What is commercial photography?
Being a professional photographer in the industry necessitates taking photographs that sell, or at the very least convince potential clients to take action in your favor.
Now, if you're a photographer considering a career in product or commercial photography, you should realize that there are several chances available. Commercial photography can truly put your talents to the test and may be quite beneficial when the photographs are added to your commercial photography portfolio, whether it's getting paid more or obtaining additional business chances.
Commercial photography industry, as the name implies, is photography used for commercial reasons and promotion. Commercial photography, which can relate to product photography, lifestyle photography, and even fashion photography, depending on the client and the product or service being offered, is used to advertise or promote a product or service, or otherwise help a business or organization in earning more money.
If you're serious about becoming a professional commercial photographer, you've probably spent time building an online photography portfolio and researching the many types of photography you may pursue. One of the nicest aspects of being a photographer is that you may try your hand in a variety of different sectors based on your interests.
Landscape and nature real estate photography, for example, may appeal to introverts who enjoy being in nature, but wedding and event photography may appeal to extroverts who enjoy being in crowds. You may pursue commercial product food photography, which is a popular and usually well-paid area of photography portfolio.
Depending on the consumer and the product or service being supplied, commercial photography can also include architecture portrait photography, culinary photography, fashion photography and events photography.
Utilizing so much product selling and promotion taking place online these days, commercial photography portfolio can also be shot with Instagram or another social media site. They may also be utilized on websites, marketing materials or goods, printed or digital advertisements, billboard-style concepts in commercial product advertising photography, and wherever else your customer wishes to visually communicate with their audience.
Let's have a look at some commercial photography tips now.
Be well-prepared at all times.
To begin with, having a lightbox or light tent to work with is advantageous. Magnets are recommended for holding folds and snaps together in this model. Before selecting a background, you must first set up your lightbox in a standing posture. The most prevalent background colors are black and white, and you'll see that I enjoy shooting against them.
Play around with the COLORS as much as you want!
Feel free to experiment with the colors, though! You are, after all, the one in front of the camera, so you get to make the choices.
Sometimes taking a stand may be beneficial!
You may also discover that by utilizing a little stand.
Macro lenses are excellent for showing minute details in small things. Remember, one of the most crucial components of commercial product photography ideas is to persuade the target audience on how amazing the item is. Every detail counts, and the lens' resolving power is crucial. It's important to be careful of that exact resolving power. The magnification of macro lenses can be a problem since it magnifies dust, scratches, and fingerprints, making them look more visible. Fortunately, the programmed may also support us, such as by providing Lightroom and Photoshop approaches in the future to assist you in resolving these challenges.
Consider where you want to put your camera.
Because we're photographing the object on a small surface with limited surrounding area, lower the camera until it's at the same level as the product. This will also guarantee that the perspective on the watch and the surroundings in the final image are aligned after compositing. Take a meter reading from the product using spot metering to avoid misunderstanding with the black backdrop. Switch to manual mode and lock these settings to avoid any surprises. After concentrating on the subject, go to manual focus for fine-tuning and to avoid refocusing between images. Take a test shot of the product with the speed light on one side. Then move the light about to see what other lighting effects you can come up with, which you may combine later if required.
The Game of Light
Begin with a low flash output and gradually increase it until the ambient light in the room is overpowered. Move the flash as near to the subject as possible to produce wraparound light, and then feather it by rotating the light so that it only grazes the product. You may change the harshness of the light by changing the distance between the flash and the subject and shooting with and without the diffuser. This can result in a wide range of shadow and highlight shapes on different portions of the object, which can subsequently be blended in post-production. In product photography, the importance of sharpness cannot be emphasized. Sharpness from front to rear is necessary to ensure that the watch integrates in with its surroundings in the end. Reduce the aperture to at least f/11, zoom in to 100%, then perform a quality check. Most lightboxes, like ours, include a series of programmable LEDs that can be adjusted to different brightness levels. Place the thing you're photographing in such a way that the LEDs shed a pleasing and dynamic light on it. Depending on what you're photographing, you may want softer lighting or something that really jumps. When positioning the object, try to avoid glare as much as possible, since this will only complicate the touch-up process.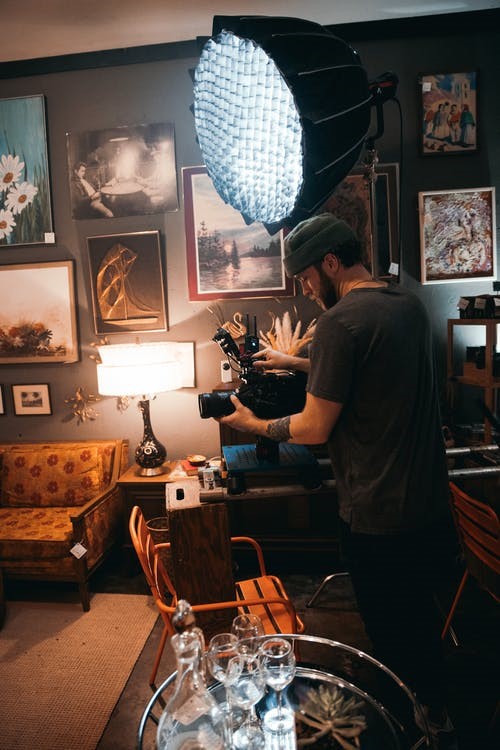 Shooting wide to get a decent depth of field viewpoint with the images, on the other hand, could be advantageous at times. When photographing a product advertisement, there's a tight line to tread between demonstrating creative purpose and making the shot obtrusive, so keep the client's objective in mind. Because commercial work necessitates the avoidance of camera shaking, a remote trigger comes in handy. We recommend utilizing the camera's delayed-timer if you don't have a remote trigger. Set the camera on self-timer for around 10 seconds (on the tripod), focus the shot, depress the shutter release, and wait. Of course, this method will lengthen the procedure, but it isn't a terrible idea to invest in it.
Consider the possibilities.
The intended consequence of the images is one of the most significant things that concepts in commercial product photography examine before shooting the first shot. The best commercial photographers have worked with a wide range of clients in a number of sectors, so they know how important it is to be clear about the desired goals while generating functional photos. For example, a project for a hotel chain will demand images that fully display the rooms and services. Product photography, on the other hand, must highlight the quality and attributes of the product. Understanding the pictures' desired consequences from the outset ensures that you're creating a vision that combines purpose and creativity. Even if you're not shooting commercial photography for a well-known brand, it's a good idea to think about what you're trying to say with your images. When photography portraits, think about the story you want to tell about your subject. It's possible that it's displaying the existence of nature in landscape photography. Each shot will have a specific purpose that you will need to specify. You'll be less inclined to take thousands of photos just for the sake of capturing them if you understand this notion. Instead, by limiting your options, you will be able to concentrate on producing deliberate imagery.
Angles are important.
Commercial photographers set themselves apart by shooting from unusual angles. Most people just aim, shoot, and get a front-and-center perspective. Angles provide drama and intrigue to any photo, regardless of what is in focus, hence commercial images are rarely taken square on. To get a view from below or above, you may need to lie down on your back for some photographs.
The audience seldom sees anything from this angle in a bird's-eye view shot. A bug's-eye view, on the other hand, is recording from a low vantage point and gazing up at a subject to provide an uncommon viewpoint. Low angles are great for making an object or person look larger than life and emphasizing their vitality, while high angles are great for including dramatic backdrop elements. Tilting the camera can also help you discover new viewpoints and contribute considerably to the construction of a unique composition. Spend some time trying with these different perspectives to see which ones work best for your photographic style and which ones you can get rid of.
The key to success is composition.
The most important feature of composition is the "rule of thirds," which requires dividing your shot into two horizontal and two vertical lines and then arranging the major components in the image on those lines, or at the spots where they meet (arrangement). This important photography technique gives your images more life and intrigue by letting the viewer to see more than just the subject; instead, they may freely explore the image. The rule of thirds is likely to be the answer if you've ever pondered why certain images are more "interesting" than others. When it comes to commercial photography, the best photographers realize that their image must catch the attention of viewers, whether they're flipping through a magazine or driving by a billboard. The composition of a photograph is crucial, which is why most people use the rule of thirds approach. By providing an image in this way, you are assisting people's eyes in going naturally and fairly within the frame. The rule of thirds also helps to create a well-balanced image, which further adds to its appeal. This rule may be used even if a product is front-and-center in the image by positioning items at the intersections of the columns and rows. This will provide you the key commercial product photography principles of having an empty space for balance and keeping the shot from seeming overloaded.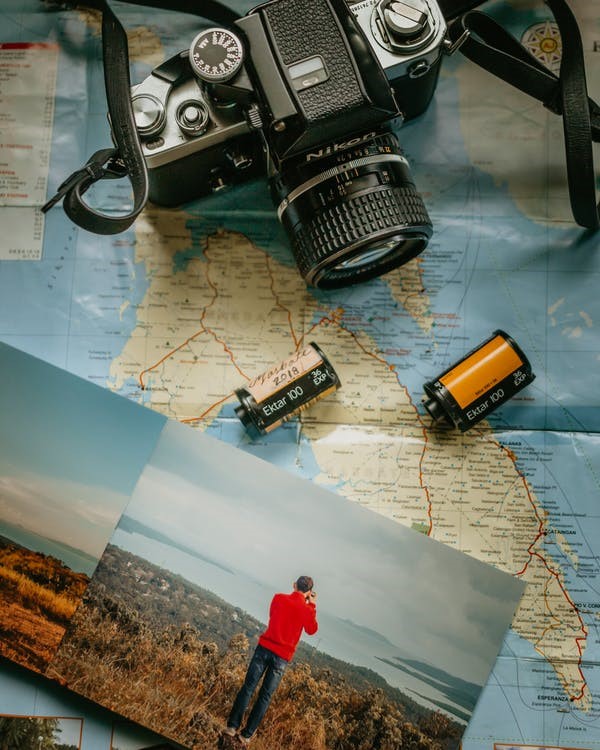 Make use of smoke and reflections.
Smoke offers a distinctive dramatic impact to your product photograph.
It also lends a mysterious atmosphere to your commercial product photography concepts. If it's acceptable for the product you're filming, you can use cultured smoke. You can use Photoshop instead of using smoke if you don't want to use it directly or if your customer isn't comfortable with it. Install Adobe Photoshop overlays to manufacture smokes faster and without offending anybody. Reflections provide dimension to a simple photo. Shooting with mirrors and glass may provide healthy reflections. If you don't have a reflecting surface to shoot on, you can create false reflections. You may make a reflection effect with Photoshop's reflection actions.
However, all of the concepts, ideas, and commercial photography jobs suggestions do not have to be used in every image. However, before you go breaking them all, learn how to use them correctly so you'll know when to use them and when to toss them away. The best strategy, like with most things in life, is to follow in the footsteps of the experts and grasp the fundamentals first, so you can deconstruct their strategies. It's not a good idea to take shortcuts when it comes to researching and categorizing your images as "your style." Getting ideas from professional photographers will help you realize all of the different ways a camera can be used; but, don't compare your work to theirs.
So, how can one master the skill and achieve quality within the eCommerce industry's rigorous deadlines?
One thing is certain: if you want to work as an advertising photographer, you must be able to handle a camera as well as possess technical abilities such as lighting setup and post-production.
So, there are several things you can do if you want to be a right commercial photographer and preserve that charm in your photographs that attract clients to your business. A detailed guide on commercial photography is provided here; read on to learn more.
What are the Different Types of Commercial Photography?
Before we get into the recommendations for improving your commercial photography, let's have a look at the many forms of commercial photography that are commonly used in the business.
If you consider it, all photography industry is commercial if you know where and how to sell your photographs. However, there are occasions when you have a definite mission and work for a certain organization. The types of images that are required from a photographer in such a setting are more professional and message-oriented. So, if you work in commercial photography services, you should become familiar with various types of it so that you may better prepare for the job. The numerous sorts of commercial shoots are listed in commercial world.
Product Photoshoot
Product photography is currently one of the most demanding and largest businesses. Brands that wish to advertise their items on eCommerce websites frequently engage photographers to assist them in showcasing their products to their greatest advantage.
Commercial product photography is often done in a studio with a white backdrop, but the correct item placement around the subject might simply improve the overall attractiveness. To do so, one must be knowledgeable with lighting and how to use it effectively.
Fashion Photography
Then there's fashion photography for business purposes. A model models a product in this sort of commercial photography. Because the stakes are high and the models are frequently paid, the photographer's task is to get the most out of the session.
So, if you want to do this kind of photography, you'll need to know about fashion photography and how to make a model position.
Food Photography
It's OK to take food photos for an Instagram post, but have you ever tried being paid for it? That is, after all, what commercial food photography is all about. This type of photography include taking shots of anything from cuisine to restaurants. To do so, one must first master the art of creative food photography.
Real Estate Photography
This sort of photography is used to capture a property's architecture and structure in order to sell it. Real estate photography necessitates capturing a location in such detail that the customer does not need to wander about the property to get a sense of what it is like.
The trend of 360 degree photography has recently emerged in the real estate industry, since clients want to have a 360-degree perspective of the property before making a decision. It's also helpful for business since you're already displaying everything a buyer needs to make a decision.
Commercial Headshots
Headshots have always been in high demand. Customers pay to appear nice on camera and acquire images that they can utilize to fulfil their requirements, whether it's a corporate headshot or a headshot for an acting portfolio.
Advertising Photography
This type of photography is frequently used to promote a company's products or services. This type of commercial photography is typically used for editorial purposes in publications such as magazines and newspapers.
However, advertising photography is not restricted to print media; it can also be seen on the internet and in mobile apps.
Jewelry Photography
Jewellery Photography is critical for a jewellery firm since the marketing of these photos accounts for the majority of their sales.
This allows the business to focus on advertising its whole new and appealing product line.
Conclusion:
Some of the most fundamental commercial photography tips are listed here. You may use the book to develop your abilities and learn about the essential elements of a normal commercial photography. Keep in mind that commercial images are intended to make money for the client, so keep that in mind as you shoot.